CANADA GOOSE HUNTING ON MARYLAND'S EASTERN SHORE WITH QUAKER NECK GUN CLUB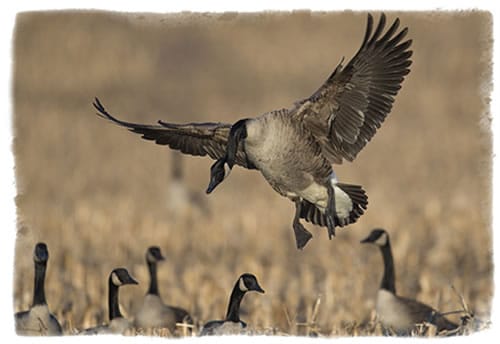 Maryland's Eastern Shore is world famous for its Canada goose hunting and the Chester River has long been known as the Canada goose capital of the shore. The gun club manages approximately eight miles of waterfront along the Chester River mostly preserved as sanctuary areas. This allows us to manage our waterfowl from the roost to our feeding areas and back.
Our current Canada goose population allows for a one bird limit throughout the thirty day season. The gun club continues to help in the rebound of the population through its year round habitat management.
The gun club has established large sanctuary areas along the Chester River and its tributaries.
More than adequate food sources; including standing corn and green forage crops.
Expertly camouflaged and positioned pits, stand-ups, and water blinds. Limited hunting pressure with licensed professional guides. Quality decoys including stuffers.
*Offsite picking service available
**Ammo is available for purchase before your hunt if needed
***Dogs are not allowed
WHAT TO BRING
Camouflage clothing
Warm waterproof boots
Non-toxic shot, tungsten alloy #2 and above
Ammo is available for purchase before your hunt if needed
SEASONS
Mid-November to Friday after Thanksgiving
Mid-December to January 31st.
Maryland Hunting Seasons
HUNTING RATES
$700.00 per blind
Blinds hold four hunters plus guide. We do not mix parties in blinds
We meet at our grain tanks 45-60 minutes before shooting time. Click here for directions.
DEPOSIT/CANCELLATION POLICY
A 50% deposit if required to hold your reservation, the remaining balance is due upon arrival.
Deposits are non refundable. refunds will not be issued on any reservations cancelled within 45 days of your scheduled arrival date. You may request to have your hunt rescheduled one time, for this season, based on availability. Quaker Neck will not carry forward a credit to the next season.
Guests may request a specific guide or specific rooms but these are not guaranteed, though we always try to accommodate any requests made by our guests, if possible.
If you have any questions please call Webb Johnson at 443-480-2148.
HUNTERS WILL MEET AT THE GRAIN TANKS BEFORE ALL HUNTS
All hunters will meet up with your guides at the grain tanks 60 minutes before shooting time. Please do not meet at the Quaker Neck Pool House location and follow the directions below for all hunts. The grain tanks are located at 7029 Quaker Neck Rd, Chestertown, MD 21620