DUCK HUNTING ON MARYLAND'S EASTERN SHORE WITH QUAKER NECK GUN CLUB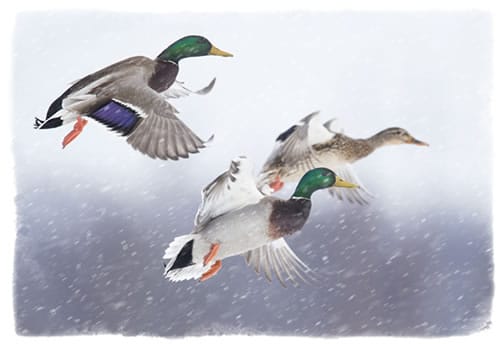 Our legendary puddle duck hunting is conducted on our forty drained and planted impoundments. They encompass several hundred acres and over 18,000 bushels of seed. These impoundments have been planted in standing corn, sorghum, millet, and moist soil plants creating a smorgasbord of food sources for the ducks.
Sanctuary areas along the Chester River and several of its creeks provide us with the rest areas necessary to manage thousands of wild ducks.
Our impoundments are flooded throughout the season bringing fresh food to the table all season long. Wells have been drilled to supplement the winter rainfall for timely water management. Bubblers are put out to maintain open water even during the coldest temperature.
Blinds have been established out in the impoundments providing close in shots on decoying birds. Chest waders are strongly recommended for entry to most of our blinds.
The primary species harvested are mallards and black ducks. Wood ducks, green wing teal, widgeon, pintail, canvasback and lesser scaup make up the rest of the bag depending on the time of the year and areas being hunted. Maryland currently has a 60 day season with a six bird limit.
*Offsite picking service available
**Ammo is available for purchase before your hunt if needed
***Dogs are not allowed

WHAT TO BRING
Chest waders
Camouflage clothing
Non Toxic Shot, we recommend 2¾" #6 Hevi Shot/ Bismuth,Tungsten shells or 3″ #2 Steel.
Ammo is available for purchase before your hunt if needed.
SEASONS
Mid-November to Friday after Thanksgiving
Mid-December to January 31st
Maryland Hunting Seasons
HUNTING RATES
$1200.00 per blind
Blinds hold four hunters plus guide. We do not mix parties in blinds
We meet at our grain tanks 60 minutes before shooting time.  Click here for directions
DEPOSIT/CANCELLATION POLICY
A 50% deposit if required to hold your reservation, the remaining balance is due upon arrival.
Deposits are non refundable. refunds will not be issued on any reservations cancelled within 45 days of your scheduled arrival date. You may request to have your hunt rescheduled one time, for this season, based on availability. Quaker Neck will not carry forward a credit to the next season.
Guests may request a specific guide or specific rooms but these are not guaranteed, though we always try to accommodate any requests made by our guests, if possible.
If you have any questions please call Webb Johnson at 443-480-2148.
HUNTERS WILL MEET AT THE GRAIN TANKS BEFORE ALL HUNTS
All hunters will meet up with your guides at the grain tanks 60 minutes before shooting time. Please do not meet at the Quaker Neck Pool House location and follow the directions below for all hunts. The grain tanks are located at 7029 Quaker Neck Rd, Chestertown, MD 21620