MOURNING DOVE HUNTING ON MARYLAND'S EASTERN SHORE WITH QUAKER NECK GUN CLUB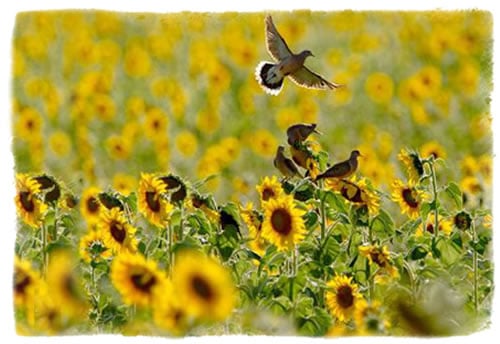 Mourning doves are hunted over our planted sunflower fields located across the Delmarva Peninsula. Our habitat management program calls for the periodic scattering of our grown grain crops, fresh dirt for gritting, and water is provided to entice our local and migrating birds to our fields.
Individual and whole field private shoots are scheduled for the first several weeks of September.
After hunt parties can be provided featuring Quaker Neck Gun Club's signature crab dip and your doves grilled right in the field.
Eye protection required
Hearing protection strongly recommended
Seat to sit on
Camouflage clothing
SEASONS
Open day (shooting hours 12 noon-sunset) Sept 1 to Mid October
Maryland Hunting Seasons
HUNTING RATES
$250.00 per man/day
We meet at noon at our grain tanks, unless otherwise specified. Click here for directions.
DEPOSIT/CANCELLATION POLICY
A 50% deposit if required to hold your reservation, the remaining balance is due upon arrival.
Deposits are non refundable. refunds will not be issued on any reservations cancelled within 45 days of your scheduled arrival date. You may request to have your hunt rescheduled one time, for this season, based on availability. Quaker Neck will not carry forward a credit to the next season.
Guests may request a specific guide or specific rooms but these are not guaranteed, though we always try to accommodate any requests made by our guests, if possible.
If you have any questions please call Webb Johnson at 443-480-2148.
HUNTERS WILL MEET AT THE GRAIN TANKS BEFORE ALL HUNTS
All hunters will meet up with your guides at the grain tanks 60 minutes before shooting time. Please do not meet at the Quaker Neck Pool House location and follow the directions below for all hunts. The grain tanks are located at 7029 Quaker Neck Rd, Chestertown, MD 21620