WHITETAIL DEER HUNTING ON MARYLAND'S EASTERN SHORE WITH QUAKER NECK GUN CLUB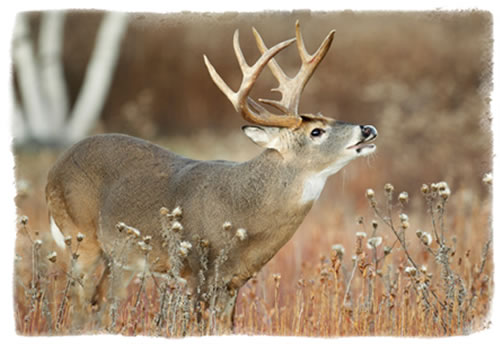 Quaker Neck Gun Club has been practicing Quality Deer Management in conjunction with our Kent County cooperative for over a decade. Numerous mature bucks and does are harvested annually. We have a minimum 15" inside spread rule for bucks (one per weapon) being harvested and 2 does per person. Violations of our spread rule are subject to a maximum of $100.00 per point fine.
Both permanent and portable stands with 16'-20' walking sticks are used to put you on the deer. Our year around habitat management programs includes over two dozen green fields planted with clover, alfalfa and brassicas. Large blocks of warm season grasses have been planted creating additional bedding and comfort zones. Annual food plots made up of standing corn, sorghum, wheat and barley are also planted. These standing crops provide winter food sources and create corridors across and between our hunting areas. Sanctuary areas have been set aside on each farm creating a safe haven for the deer.
Off-site butchering service is available nearby.
*Blood drawn on a buck counts as a kill

WHAT TO BRING
Safety belt is required
Flash light
String for pulling up your weapon
Rubber knee high boots
250 sq. inches of orange – Front & back of vest plus hat for firearms seasons
SEASONS
Bow – September 7 – January 31
Early Black powder – third weekend of October
Shotgun – Saturday after Thanksgiving for two weeks
Late Black Powder – last two weeks of December
Crossbow –September 7 – January 31
Late Shotgun – first weekend in January
Maryland Hunting Seasons
HUNTING RATES
Bow – $300.00 per man/day
Early Black Powder – $300.00 per man/day
Shotgun – first two days $300.00 per man/day $300.00 thereafter
Late Black Powder – $300.00 per man/day
Cross Bow – $300.00 per man/day
We meet at the grain tanks 60 minutes before shooting time.
DEPOSIT/CANCELLATION POLICY
A 50% deposit if required to hold your reservation, the remaining balance is due upon arrival.
Deposits are non refundable. refunds will not be issued on any reservations cancelled within 45 days of your scheduled arrival date. You may request to have your hunt rescheduled one time, for this season, based on availability. Quaker Neck will not carry forward a credit to the next season.
Guests may request a specific guide or specific rooms but these are not guaranteed, though we always try to accommodate any requests made by our guests, if possible.
If you have any questions please call Webb Johnson at 443-480-2148.
HUNTERS WILL MEET AT THE GRAIN TANKS BEFORE ALL HUNTS
All hunters will meet up with your guides at the grain tanks 60 minutes before shooting time. Please do not meet at the Quaker Neck Pool House location and follow the directions below for all hunts. The grain tanks are located at 7029 Quaker Neck Rd, Chestertown, MD 21620